Additional information

Authentic Star Destroyer model
From the moment Darth Vader's gigantic Star Destroyer took an age to fly over the camera, audiences and fans have been captivated by the huge, hulking and iconic triangular spaceships. Now updated and bigger and badder than ever before for Episode VII: The Fore Awakens, the First Order Star Destroyer Bluetooth Speaker is truly something to behold. It features powerful drivers that will enable your media to fill the room with interstellar audio. If you want something that will provide enough volume for a decent sized room, bedroom or office, this will suit perfectly. Sound is punchy, defined and clear.., and let's face it, few other bluetooth speakers look as cool as this, however loud it is.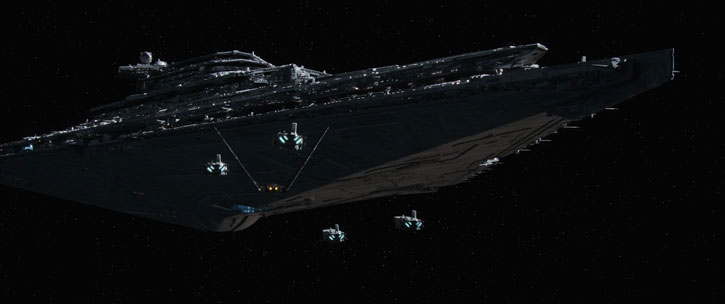 Above: The real deal, from Star Wars Episode VII: The Force Awakens
Prepare to make the jump to lightspeed
What makes the Star Destroyer Bluetooth Speaker so cool is the light up hyperdrive speaker at the rear - as does the many lights across the superstructure. This thing is cool in daylight but in the dark? Forget about it. And don't pretend you won't pretend it's blasting through space when the lights are off. That's just going to happen. You could even play the Imperial March theme through the speaker for pure geekout bliss. It also stands on a clear perspex stand that makes it seem like it's flying!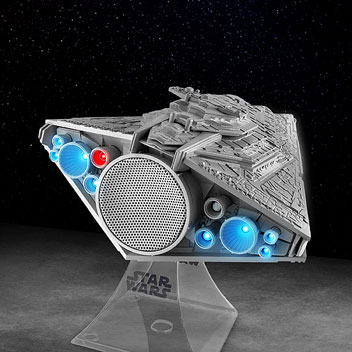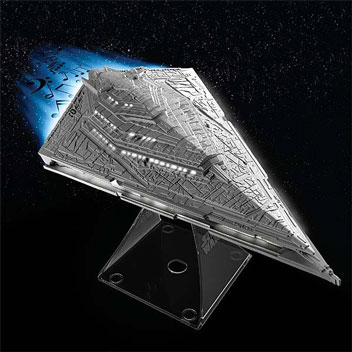 Bluetooth and line-in connectivity so you can connect any audio device in the galaxy
The Star Destroyer is Bluetooth enabled, so the pairing process is incredibly simple - connecting to your device wirelessly is fast and easy. It supports any Bluetooth music device and you only have to turn the speaker on and search for it using your device. This sound system however also includes a standard 3.5mm jack to allow you to connect devices without Bluetooth technology such as iPods, laptops and MP3 players.
Built-in microphone for hands-free calls
The Star Destroyer's built-in microphone makes it easy to take calls hands-free or in a group. You can easily switch between playing audio and receiving calls with the multifunction button. The internal microphone is compatible with Bluetooth enabled phones, Facetime, Skype and other applications (not all phones will support these features) - making it a perfect item for office conference calling or family Skype chats.
Built-in Li-ion rechargeable battery
Fully loaded with a rechargeable hyperdrive lithium ion battery, which provides you with hours of play time. Recharging the Star Destroyers's battery is made easy with the included USB charge cable. Or, you can run it all day long from a mains power outlet.
Official Star Wars Disney merchandise
There is plenty of fake, unofficial merchandise out there. Especially with something as iconic as Star Wars. Well, this isn't that. This is 100% genuine licensed merchandise from Disney. So if you want to give this as a gift (and it is perfect for that) rest assured you are purchasing the real deal.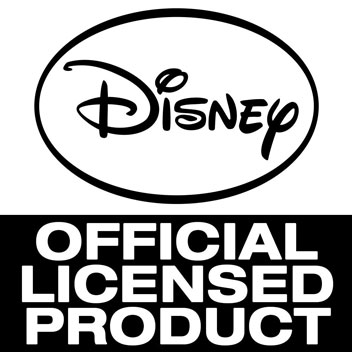 Technical Specifications:
Bluetooth: CSR 2.1 +EDR
Dimensions: 168 x 292 x 239mm (packaging)
3.5mm port: Yes
Average rating 4,0 given by 1 customers | Write a review
Dorothy
Dickinson, Tx
25 January 2016
Star Wars Star Destroyer Bluetooth Speaker
Nice
This device is nice. Smaller than I expected. I purchased this as a gift for my spouse. He loved it! He was surprised by the sound. (He did note the bass wasn't all that great.) He still likes it.
Translated from English
2 out of 2 found this helpful
Did you find this review helpful?